Advantech launched the SOM-6872 COM Express Type 6 module equipped with AMD Ryzen™ embedded V2000 SoC. This module is powerful, compact, and has excellent performance. It supports up to 8 cores, 16 threads, Turbo Boost (up to 4.25GHz) and 4 independent 4K Displays; it adopts built-in I/O interface and provides excellent performance without additional graphics cards. Graphic display performance. SOM-6872 is an excellent choice for digital signage, medical imaging, machine vision, gaming and other graphics-intensive applications.
Mini COM Express Compact module provides excellent performance
How to take into account the three major factors of powerful performance, low power consumption and small size in the design process is always an important task and challenge faced by hardware designers. SOM-6872 is specially designed for this, it also meets the demand for powerful, compact, energy-saving and high-efficiency solutions. This small (95 x 95 mm/3.74 x 3.74 in) module provides excellent performance with a 54W high TDP, which reduces the footprint by 24% compared to the COMe Basic module. Despite its small size, it passed the PASSMARK PerformanceTest V10.1 and 21716 tests, and the CPU scored an amazingly high score. This score is better than 87% of existing CPUs, and is even equivalent to server-level computing performance. This powerful solution not only has excellent performance, but also supports multiple I/O interfaces, including USB 3.2 Gen 2, PCIe Gen 3, GbE, SATA 3, and 4K display interfaces (DP ++, HDMI, VGA, LVDS). In addition, the onboard TPM and 64GB memory (ECC optional) improve safety and reliability. Customers who use SOM-6872 can get superior performance and more system space without having to bear the high cost of design changes.
QFCS cooling technology enhances CPU performance
AMD's innovative 7nm technology and Zen 2 architecture double the performance per watt of the V2000 SoC. V2000 10~25W SKU achieves 45W performance in the mobile CPU category. In the desktop CPU category, 35~54W SKU reached 95W performance. SOM-6872 is combined with Advantech's patented thermal solution-dual-fin omnidirectional convection heat sink (QFCS), which can achieve 100% CPU performance without throttling when the SoC is at 54W TDP. SOM-6872 has two optional TDPs (35~54W and 10~25W), which can meet the needs of mid/high-end systems. In addition, Advantech has rich experience in computer module design and can provide customers with comprehensive design reference documents and a variety of evaluation carrier boards. Combined with SOM-6872, it can be adapted to different systems. These design assistance services will greatly help customers save time and reduce development costs.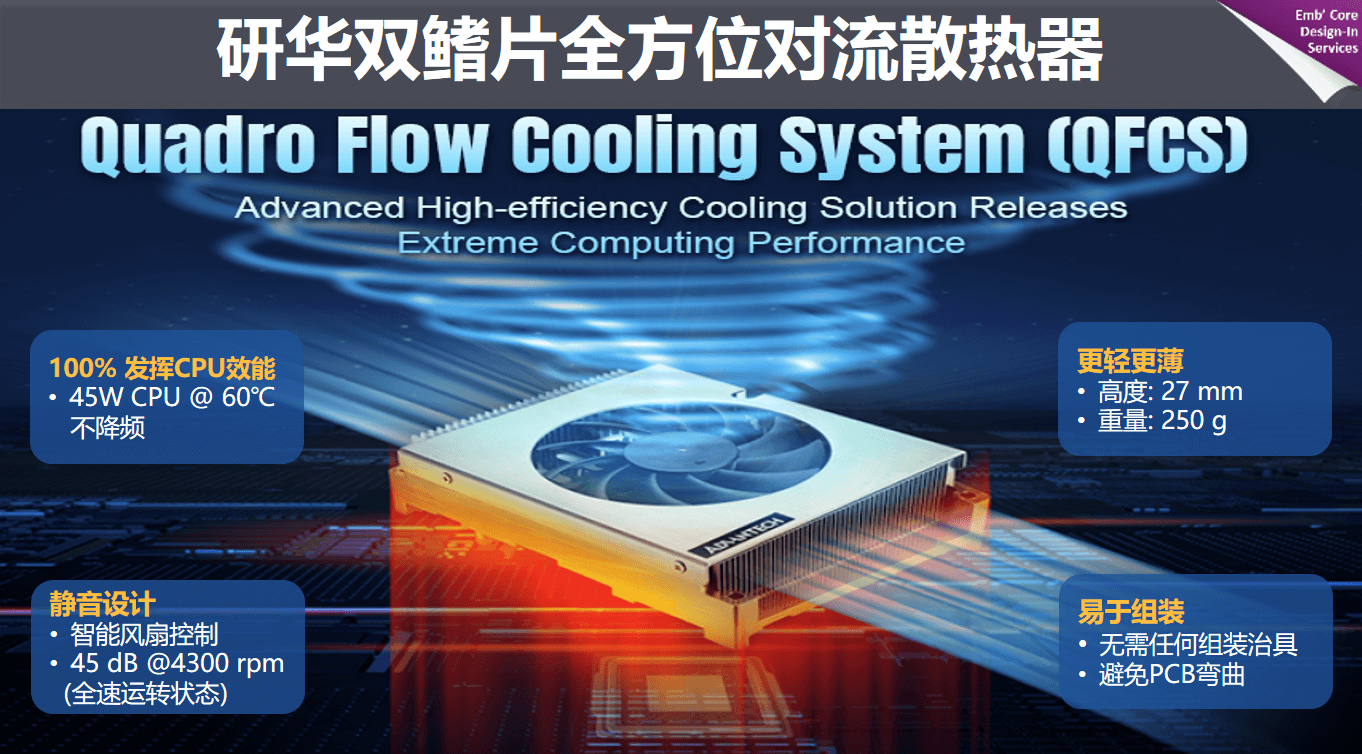 Value-added software simplifies edge connectivity
Advantech's proprietary software iManager provides 24/7 real-time I/O interface control and monitoring functions, which enhances the performance of SOM-6872, which is impressive. Similarly, WISE-DeviceOn enables customers to remotely monitor the system status and update programs over the air (OTA) to prevent system failures. In addition, SOM-6872 also supports BIOS storage protection, secure boot and BIOS power management functions. All in all, the combination of this innovative technology and easy integration features makes SOM-6872 suitable for a variety of AIoT and IIoT applications.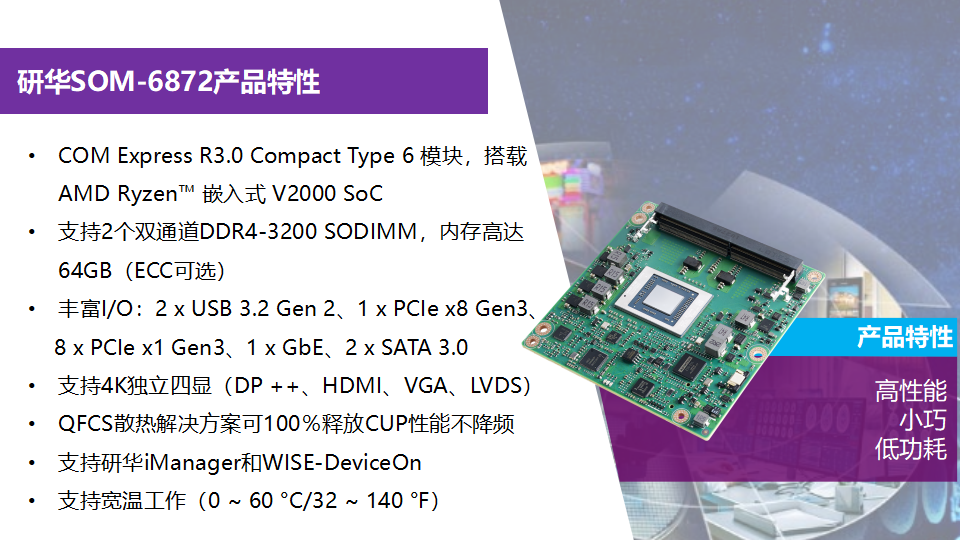 Advantech SOM-6872 has been launched. For more information about Advantech COM products and services, please call Advantech Embedded Service Hotline 400-001-9088.